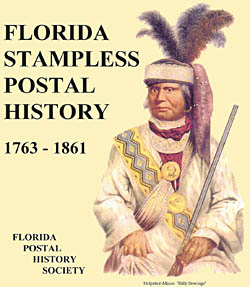 The Florida Stampless Postal History book published by the FPHS in 1999 is long out of print. We have decided to make this volume available to the philatelic community. The Florida Postal History Society survives on a very narrow revenue stream and would deeply appreciate any monatary contribution should you find the book to be useful. Please direct any donations to Deane R. Briggs; contact information is listed in the CONTACTS section of this website.
The society has completed the update to the 1999 reference book and it is now available.
The updated reference book for Florida Postal History is now available and can be ordered HERE.